Here is a little talk that I gave to offer support to those with issues around anxiety
UPDATE – in the current environment that we all find ourselves in, and the restrictions due to such, the course has been redesigned so as to be available in the current conditions and as such will be available remotely by live 'Zoom' video link sessions. It does also require some home study and all materials and support will be provided. The one to one, student and tutor, assessment will be completed via a live video link that will be recorded and submitted as evidence to the awarding body (FAA) and this will lead to full certification.
The taught delivery will have 3 x 2 hour sessions delivered via 'Zoom', with full and open interaction between the course director Cain and the attending students (the attendees will be capped at a maximum of 10 to ensure time is available for all to ask questions etc.) It is estimated that you should do an additional 10-12 hours of self study on top of the interactive video teaching and a comprehensive manual is sent to you once you sign up.
The assessment is a recorded conversation (maximum duration of 1 hour, although it should not take that long) with just yourself and the tutor/assessor to provide evidence to the awarding body that you have achieved a high level of knowledge and understanding.
The investment is just £149 and that includes all learning materials and certification.
There will be additional helpful material given to all students on this course to compliment the original FAA material – covering the importance of exercise, nutrition, the role of genes and more…
Any questions please contact us directly mentalhealth@gbfitness.com
Please CLICK above to download a PDF of the Level 3 Supervising First Aid for Mental Health course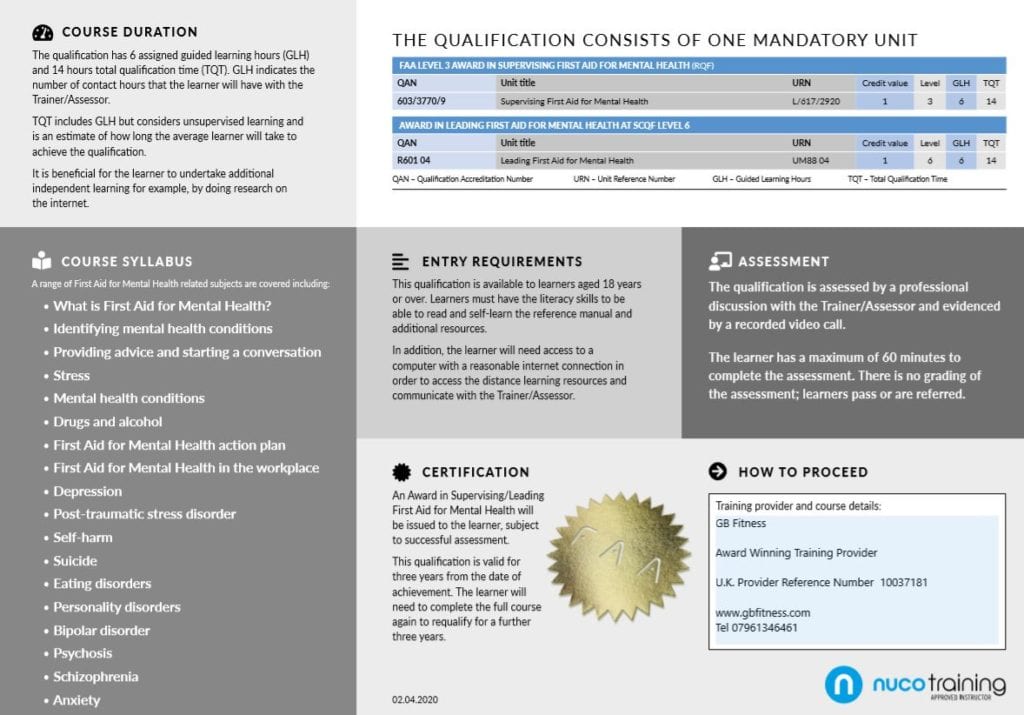 First Aid for Mental Health qualifications that have been developed by First Aid Awards (FAA). Our main aim is to raise the awareness of mental health issues within the British public and UK workplaces through national qualifications regulated by Ofqual which are listed on the Regulated Qualifications Framework (RQF) and The Scottish Qualifications Authority (SCQF).
Nuco's First Aid for Mental Health programme has been developed using the latest research and information from some of the world's largest medical institutions and we ensure all knowledge that is achieved through attendance is up to date. We provide learners with the appropriate tools and information to support a person with a suspected mental health condition.
This course has been developed within the United Kingdom and as such Nuco and FAA have taken the unique needs of the British public and UK workplaces into highest consideration during the development.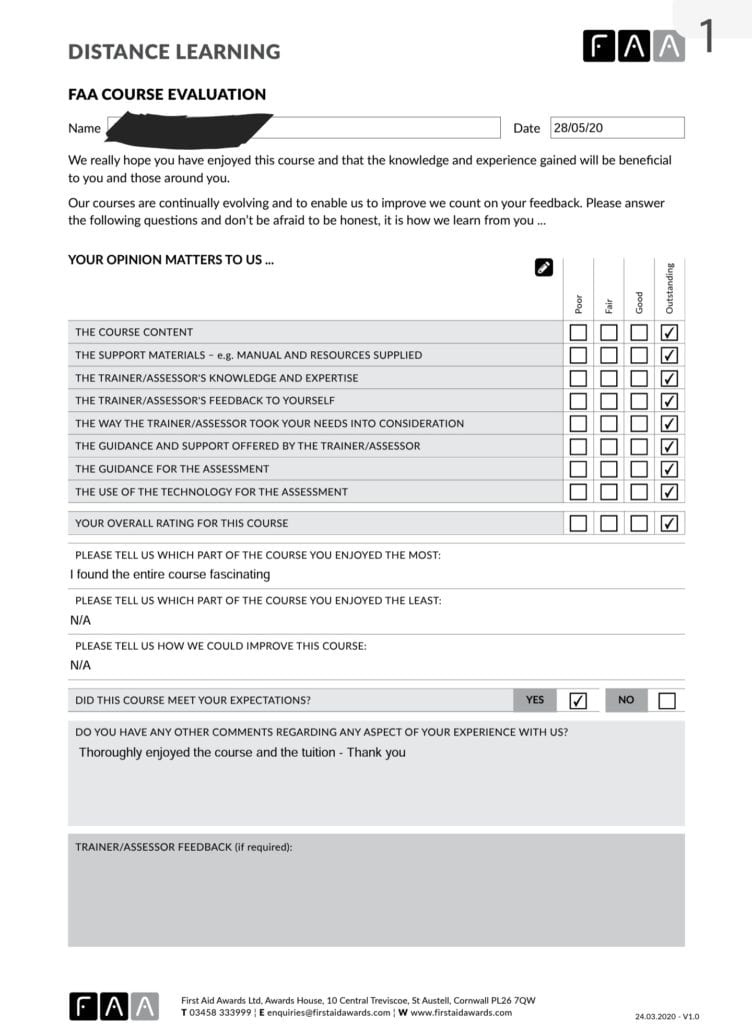 The First Aid for Mental Health courses are suitable for anyone with an interest in the new half-day level 1, 1-day level 2 and 2-day level 3 qualifications.